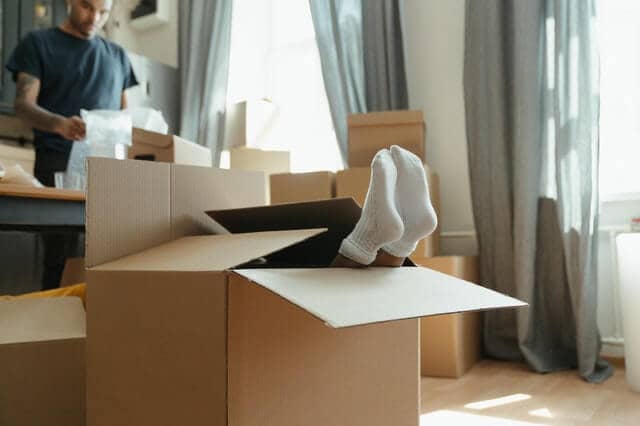 Get our no obligatory free estimate on your removals. Get in touch with one of our representative.
If you're planning your first-ever domestic removal, you may be feeling a little intimidated. Moving to a new place is a big step, and it's understandable that you want everything to go to plan. Our domestic removals service helps people in Oldham move anywhere in the country, long and short distances. 
At Rapid Removals, we help our customers relocate smoothly. We want the process to be as smooth and peaceful as possible, and we use our skills, knowledge, and expertise to deliver a positive moving experience to our customers. This is what has kept us so popular in the Oldham area over the years. 
Relocating has a lot of potential for excitement: it's full of new people, new places, and new opportunities. However, this process is usually seen as a stressful ordeal
many people who approach us are actually dreading their moving day. We want to restore the excitement to the process by handling some of the difficult parts that cause our customers the most concern. 
We are very successful when it comes to delivering an excellent customer experience. Here at Rapid Removals, we offer a whole range of removals services, and domestic removals are some of the most popular. Our domestic removals service helps you plan your move, load your items, transport them, and unload them on the other side. 
If you're one of the people who are planning their relocation with trepidation, let us take over the heavy lifting. Read on to find out why you need a professional removals service, what we offer, and what you should keep in mind when you need to hire a firm.
The team at Rapid Removals know domestic removals inside out, so we're the perfect people to answer your enquiries about this particular service. If you want to discuss your specific removals needs in greater detail, our friendly and professional team would be happy to hear from you. 
Rather than attempting your move alone, we recommend that you hire a professional removals service. There are many great reasons to do so! We know many people who have attempted to perform their moves independently. Often, they end up calling removals services to help them out at the last minute. We'd rather you avoided that stress from the start!
First of all, it's far safer. We've had the necessary training to perform our work correctly. If you try it without our knowledge and experience, there is the potential for problems to arise.

You might, for example, end up damaging your property. Attempting to carry pieces of furniture might result in scratched walls or breakages. You could also end up experiencing an injury. Removals are more than heavy lifting; it's also about transporting items correctly through difficult spaces.  
People usually attempt their own removals to save money. However, if you break something or hurt yourself, you could end up paying a much higher price. Also, if you're attempting an amateur move anyway, you'll have to pay to hire a van and use equipment as well. Doesn't it make greater economic sense to hire a professional team?

Another thing to consider is that we're able to perform removals far more efficiently than you can. If you're keen to get settled in your new place, you don't want to prolong the removals process any longer than necessary. We can get the job done quickly and easily. 
One of the best reasons to hire a removals company is that you can actually enjoy the relocation process. It doesn't have to be a fraught, problematic ordeal. You can relax and enjoy peace of mind when you trust the right team to take care of your move. 
Once you've decided to hire a removals company to handle your domestic removals, you need to choose which company is right for you. This can be overwhelming as there are many different companies promising the world. Not all of them deliver to the same degree! In Oldham, Rapid Removals is an excellent option. Read on to find out why we remain so popular in the local area. 
Our services are affordable. When you ask for a quote, you'll be pleasantly surprised by how reasonable our rates are. We pride ourselves on delivering exceptional value for money, so customers can receive the best possible service at a relatively low price. Amazing service doesn't need to cost a fortune when you hire Rapid Removals, Oldham.

It makes sense to hire a skilled and experienced company that knows exactly what it's doing when it comes to domestic removals. Rapid Removals has been in business for as long as most locals can remember, and over that time we've provided consistently high-quality removals services.

We offer all kinds of removals services. That means you can trust us to know how to handle your move, regardless of the specific details of your job. We have an incredible reputation in the community for a reason: we have shown we are deeply committed to combining our skills, knowledge, and experience to provide excellent customer experiences. 
If this is your first time hiring a domestic removals company or your first time hiring one in a while, here are things you should bear in mind:
You need to find a reputable, trustworthy company. You shouldn't settle for less than the best! Why suffer substandard service when a great customer experience can be obtained at an accessible price? 
You're within your rights to request multiple quotes and make a comparison. If you're approaching unknown companies, it's a good idea to confirm that you're being quoted a reasonable rate. When you have the quotes, you can decide which company is best based on the prices and what's on offer. 
You should book with plenty of time to ensure that the company you want is available on the day you need them. Don't leave this to the very last minute. If you get Rapid Removals on board at an early stage, we can help you plan and coordinate your move.
Frequently asked questions
Let's discuss your Removals and
Make an Estimate for it.